WELCOME
...to the Catholic Conference of Ohio website!
The Catholic Conference of Ohio is the official representative of the Catholic Church in public matters affecting the Church and the general welfare of the citizens of Ohio.
Friday, December 19, 2014
Readings and Psalms for December


NEWS

Most Reverend A. Edward Pevec, Auxiliary Bishop of Cleveland Passes Away
Bishop Pevec, as a retired Auxiliary Bishop, was beloved by a great number of people as he served the Church for over 60 years as a priest and bishop. Cleveland has witnessed a successor to the Apostles as he lived the three-fold ministry of Jesus; teaching, sanctifying and the guiding of God's people. May he rest in peace as a good and faithful steward of the mysteries of God." [
MORE
]
Reflection by Cleveland Bishop Richard Lennon

Pope Francis' World Day of Peace Message
January 1, 2015

No Longer Slaves, But Brothers and Sisters

"...I pray for an end to wars, conflicts and the great suffering caused by human agency, by epidemics past and present, and by the devastation wrought by natural disasters. I pray especially that, on the basis of our common calling to cooperate with God and all people of good will for the advancement of harmony and peace in the world, we may resist the temptation to act in a manner unworthy of our humanity..."

"Created in the image of the one God and equally endowed with rational souls, all men have the same nature and the same origin. Redeemed by the sacrifice of Christ, all are called to participate in the same divine beatitude: all therefore enjoy an equal dignity.

The equality of men rests essentially on their dignity as persons and the rights that flow from it:

Every form of social or cultural discrimination in fundamental personal rights on the grounds of sex, race, color, social conditions, language, or religion must be curbed and eradicated as incompatible with God's design."


Catechism of the Catholic Church 1934, 1935

---
Prayer to End Racism


Dear Lord, help us to search our own hearts and seek forgiveness and reconciliation for racist attitudes and beliefs to which we have given credence in our lives. Help us not to speak or act in ways that demean our brothers and sisters.

Help us to speak up and act when we hear or see racism demonstrated in any way. Help us to create inclusive, welcoming committees where we live, work and worship as we pledge to work to eradicate the sin of racism wherever it exists, in our hearts, in our church, on our jobs and in our communities.

Give us the courage as Christian disciples to work to dismantle racism in the wider community. With your grace we will dwell together in God's love with all of our brothers and sisters.

We make this prayer in Jesus' name. Amen.

Adapted from Pledge to End Racism, Queen of Angels Parish, Chicago



"Whatever violates the integrity of the human person, such as mutilation, physical and mental torture and attempts
to coerce the spirit; whatever is offensive to human
dignity, ... : all these and the like are a disgrace..."

Blessed John Paul II, Veritatis Splendor (echoing Vatican Council II)

Bishop Oscar Cantu's Statement on the U.S. Senate Select Intelligence Committee Report on Torture

"The Catholic Church firmly believes that torture is an 'intrinsic evil' that cannot be justified under any circumstance. The acts of torture described in the Senate Intelligence Committee's report violated the God-given human dignity inherent in all people and were unequivocally wrong. Congress and the President should act to strengthen the legal prohibitions against torture and to ensure that this never happens again."

Read the USCCB's Study Guide on Torture: Torture is A Moral Issue and the Office of International Justice and Peace's Backgrounder on Torture.

USCCB Migration Chairman Welcomes Obama Administration Announcement Of Relief For Immigrant Families


"...We've been on record asking the Administration to do everything within its legitimate authority to bring relief and justice to our immigrant brothers and sisters. As pastors, we welcome any efforts within these limits that protect individuals and protect and reunite families and vulnerable children," said Bishop Elizondo.


"...I strongly urge Congress and the President to work together to enact permanent reforms to the nation's immigration system for the best interests of the nation and the migrants who seek refuge here..." [MORE]



Catholic Legal Immigration Network (CLINIC) Response

Fact sheet on the new executive order
Pope Francis Will Attend the World Meeting of Families—Philadelphia 2015

It is expected that the Holy Father will visit Philadelphia September 25 – 27, 2015 to participate in the closing events of the Eighth World Meeting of Families. [MORE]
MASS, FEATURED SPEAKERS

Mass for all participants with the Bishops of their dioceses will be celebrated on Nov. 12 at 11:00 a.m.

Featured Speakers include

Todd Whitaker

, author and national presenter on teacher and principal effectiveness; and

Fr. Robert Barron

, Rector of Mundelein Seminary and noted author, founder of Word on Fire evangelization ministry, including the nationally televised documentary series, Catholicism.

Please go to: www.oceaconvention.org for more information



"Never war! Never war!

I think most of all about children, whose hopes for a dignified life, a future

are dashed,

dead children, wounded children,

mutilated children, orphans,

children who have the

leftovers of war for toys,

children who don't know how to smile.

Stop it, please! I beg you with all my heart! It's time to stop!"...

Let's remember that

everything is lost with war

and nothing is lost with peace."


PRAYER FOR PEACE


Lord Jesus Christ, who are called

the Prince of Peace,

who are yourself

our peace and reconciliation,

who so often said, "Peace to you," grant us peace. Make all men and women

witnesses of truth, justice, and brotherly love.

Banish from their hearts whatever

might endanger peace.

Enlighten our rulers that they may

guarantee and defend the great gift of peace.

May all peoples of the earth become

as brothers and sisters.

May longed-for peace

blossom forth and reign always over us all.

Pope Saint John XXIII


RESOURCES
Care for Creation


Catholic Conference of Ohio

web page

on environmental justice entitled

Care for Creation

. It provides resources for families, parishes, schools and other institutions.

Care for Creation Calendar
available for download
Calendar Identifies and honors patron saints of God's creation

Basic Calendar (PDF)
Calendar with Interactive Links (PDF)
Calendar with QR Code (PDF)




A new effort is underway across Ohio to prevent drug abuse among Ohio's children. Start Talking! is a statewide program to give parents, guardians, educators and community leaders the tools to start the conversation with Ohio's youth about the importance of living healthy, drug-free lives.






December 10, 2014

: Ohio House vote on HB 248: Heartbeat bill fails Hannah News story

Catholic Conference of Ohio

statement

on Heartbeat Legislation

---

Ohio Abortions Hit New Historic Low
State Report Shows 9 Percent Drop from Previous Yea

r




There were 23,216 abortions performed in the state of Ohio in 2013, the lowest annual number since the state began keeping records in 1976, according to a new

report from the Ohio Department of Health (ODH).
---

Moratorium on Ohio's executions extended until January 15, 2015

U.S. District Judge Gregory L. Frost has ordered a temporary moratorium on executions in Ohio while legal issues related to new lethal injection protocol are worked out.





The order stops the scheduled executions of Ronald Phillips of Summit County, William Montgomery of Lucas County, Raymond Tibbets of Hamilton County, Gregory Lott of Cuyahoga County, and Warren Henness of Franklin County. They will all have to be rescheduled by the Ohio Supreme Court. [

MORE

]

---

Ohio Supreme Court Task Force issues recommendations on Ohio's death penalty [MORE]

Catholic Conference Page on Death Penalty

December 17, 2014:

Compromise reached on Amended SB 250: Adoption Reform.

Bill shortens the putative father registration period, shortens the expiration period for questioning an adoption decree, allows a pre-birth notice to a putative father, makes changes in how living expenses are paid, allows for advertisement by both birth parents and QAPs, and modifies the adoption tax credit.
---
Sub. S.B. 23 will enable all individuals adopted between the years 1964 through 1996 to their access original birth certificates as well as their social and medical history records. As outlined in the law, these records will be available to adult adoptees starting March 20, 2015. Birth parents who wish to remain anonymous have until this date to have their names redacted from these files. All adoptions from 1964-1996 were closed adoptions.

Information from Ohio Department of Heath regarding redaction request forms and release forms

Biological parents who wish to redact their name from any future adoption file release may sign and submit a redaction request form between now and March 20, 2015. Redaction requests must be submitted using this official government form. Biological parents may submit the redaction request until March 20, 2015. Please note if a redaction request form is submitted by a biological parent they must also submit an updated social and medical history form in order for the redaction request to be accepted.

Also effective starting March 20, 2015, the adopted name may be released to a biological parent or sibling upon receipt of a signed application for release of adopted name form.

Catholic Conference of Ohio web page on adoption


O

hio Human Trafficking Awareness Day 2015

January 15, 2015

Columbus Statehouse Atrium

8:30-3:30

Free and Open to the Public

Optional Lunch $10.00

RSVP by January 9, 2015
614-644-6017
claire.childers@ohiohouse.gov
Promotion & Defense of Marriage
One Man, One Woman, For Life: Lead Messages on Marriage Redefinition (for clergy, leaders, and lay faithful)

CALL TO PRAYER
FOR LIFE, MARRIAGE AND RELIGIOUS LIBERTY

The Catholic Bishops of the United States have called for a nationwide effort to advance a movement for Life, Marriage, and Religious Liberty through prayer, penance, and sacrifice. Catholics across the nation are being encouraged to pray for rebuilding a culture favorable to life and marriage and for increased protections of religious liberty.

Monthly Eucharistic Holy Hours in cathedrals and parishes

Daily Rosary by families and individuals

Special Prayers of the Faithful at all Masses

Fasting and abstinence from meat on Fridays

Call to Prayer Resources: USCCB

USCCB Resources on the Defense of Marriage

Catholic Conference Page on Marriage & Family Life


Campaign Runs through
May 2015

Since his election, Pope Francis has challenged Catholics and all people to go beyond the boundaries of their own lives and encounter the poor and marginalized

.

Click here to learn more



Prayer for Food for All

O God, you entrusted to us the fruits of all creation so that we might care for the earth and be nourished with its bounty.

You sent us your Son to share our very flesh and blood and to teach us your Law of Love. Through His death and resurrection, we have been formed into one human family.

Jesus showed great concern for those who had no food – even transforming five loaves and two fish into a banquet that served five thousand and many more.

We come before you, O God, conscious of our faults and failures, but full of hope, to share food with all members in this global family.

Through your wisdom, inspire leaders of government and of business, as well as all the world's citizens, to find just, and charitable solutions to end hunger by assuring that all people enjoy the right to food.

Thus we pray, O God, that when we present ourselves for Divine Judgment, we can proclaim ourselves as "One Human Family" with "Food for All". AMEN.



Catholic Bishops statement on Religious Liberty: Our First, Most Cherished Liberty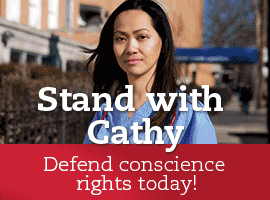 Prayer For Protection Of Conscience Rights In Health Care
Father, in Jesus our Lord, we praise and thank you for your most precious gift of human life and for forming us in your divine image. Keep us, the dwelling place of your most Holy Spirit, ever healthy in body and soul.
Jesus, Divine Healer, pour your grace upon all those afflicted with illness or disease. Protect from all harm those who are vulnerable due to sickness, suffering, frailty, poverty or age, whether elderly or unborn.
Holy Spirit, touch the hearts of all who serve human life in medicine and science, so they will protect the dignity of each person, from conception to natural death, and remain faithful advocates of all entrusted to their care.
Grant those who are called to serve as health care providers renewed conviction in their ministry, and increased wisdom to treat the whole person, and not merely the illness.
Protect the right of health care providers to serve their patients without being forced to violate their moral and religious convictions. Guard them against discrimination, that they might be free to follow you faithfully while fulfilling their professional duties.
Grant our lawmakers the wisdom and courage to uphold conscience rights for those called to the ministry of healing, and help them resist the pressure to become collaborators in the culture of death.
Give us strength to be bold and joyful witnesses to the truth that every human life is sacred.
In your goodness, guard our freedom to live out our faith and to follow you in all that we do.
Father, we ask this in Jesus' name, through the Holy Spirit. Amen.


U. S. Bishops Resources regarding Health Care Reform
Catholic Conference of Ohio Page on HHS Mandate


ACTION ALERTS
OTHER RESOURCES


Study the Catechism in the new, easy-to-navigate E-pub format


Compendium of the Social Doctrine of the Church

Our general mailbox is general@ohiocathconf.org. To reach a staff person, all addresses are first-initial-last-name@ohiocathconf.org. See the Contact Us page for a full staff directory


©Catholic Conference of Ohio