WELCOME
...to the Catholic Conference of Ohio website!
The Catholic Conference of Ohio is the official representative of the Catholic Church in public matters affecting the Church and the general welfare of the citizens of Ohio.
Thursday, May 21, 2015
NEWS

The Fortnight for Freedom: Freedom to Bear Witness will take place from June 21 to July 4, 2015

.

The theme of this year's Fortnight will focus on the "freedom to bear witness" to the truth of the Gospel.
[MORE]
Fr. David J. Bergner Named Vicar for Social Concerns for the Catholic Diocese of Youngstown


Fr. David is a priest of the Society of the Divine Savior (Salvatorians). He has devoted a significant portion of his life and ministry to the work of Catholic Charities. He will begin on July 1, 2015. [More]

WELCOME FR. DAVID!
On April 25, a devastating 7.8-magnitude earthquake struck Nepal near Kathmandu, also affecting nearby parts of India. Avalanches were reported in the Himalayas, including on Mount Everest. The official death toll has surpassed 8,000.

CRS and our partner Caritas Nepal plan to support 75,000 people with emergency shelter, blankets, water treatment kits, tarpaulins and hygiene kits.

CRS is also procuring emergency supplies in India. And more emergency personnel are on the way.

CRS has committed at least $10 Million to relief efforts in Nepal.

Learn More About CRS and Caritas Mobilizing Response




PRAYER FOR NEPAL

Loving God,

We pray for all those affected by the earthquake in Nepal as we offer the words of the psalmist, "Be strong and take heart, all who hope in the Lord" (Psalm 31:25).

May those who are paralyzed by fear …
Be strong and take heart

May those who have lost or are still searching for loved ones …
Be strong and take heart

May those who remain trapped under rubble …
Be strong and take heart

May those rescue workers who provide relief and recovery …
Be strong and take heart

May those who are moved with compassion to help …
Be strong and take heart

God, whose love knows no bounds,
fill all those who suffer with your comfort and peace.

We ask all this through Christ, our Lord. Amen


Catholic Conference of Ohio's Informational Flyer

Listing of Ohio Bishops

Listing of Conference Staff

Facts About the Catholic Church in Ohio

Conference Priorities
Legislative Issue Overviews
Debate on Budget Bill continues in Senate

Am Sub Bill HB 64 (PDF)(large file)

Click Here for Catholic Conference of Ohio Budget Page & Response to State Budget: HB 64


The 131st Ohio General Assembly General Assembly Website



---

Legislators by Catholic Schools

Legislators by Parish
OCEA Convention 2015

Mass for all participants with the Bishops of their dioceses will be celebrated on Nov. 12 at 11:00 a.m.

Featured Speakers include

Todd Whitaker

, author and national presenter on teacher and principal effectiveness; and

Fr. Robert Barron

, Rector of Mundelein Seminary and noted author, founder of Word on Fire evangelization ministry, including the nationally televised documentary series, Catholicism.

Please go to: www.oceaconvention.org for more information



"Never war! Never war!

I think most of all about children, whose hopes for a dignified life, a future

are dashed,

dead children, wounded children,

mutilated children, orphans,

children who have the

leftovers of war for toys,

children who don't know how to smile.

Stop it, please! I beg you with all my heart! It's time to stop!"...

Let's remember that

everything is lost with war

and nothing is lost with peace."


PRAYER FOR PEACE


Lord Jesus Christ, who are called

the Prince of Peace,

who are yourself

our peace and reconciliation,

who so often said, "Peace to you," grant us peace. Make all men and women

witnesses of truth, justice, and brotherly love.

Banish from their hearts whatever

might endanger peace.

Enlighten our rulers that they may

guarantee and defend the great gift of peace.

May all peoples of the earth become

as brothers and sisters.

May longed-for peace

blossom forth and reign always over us all.

Pope Saint John XXIII


RESOURCES
Care for Creation


Catholic Conference of Ohio

web page

on environmental justice entitled

Care for Creation

. It provides resources for families, parishes, schools and other institutions.

Care for Creation Calendar
available for download
Calendar Identifies and honors patron saints of God's creation

Basic Calendar (PDF)
Calendar with Interactive Links (PDF)
Calendar with QR Code (PDF)


Debate on Budget Bill continues in Senate

Am Sub Bill HB 64 (PDF)(large file)

Click Here for Catholic Conference of Ohio Budget Page & Response to State Budget: HB 64


Ohio House Passes Heartbeat Bill, HB 69
Bill Moves to the Ohio Senate

---

Ohio House Passes HB 28 that will provide additional suicide prevention programs


---

Ohio House Passes HB 24 that seeks additional elder care protections


Promotion & Defense of Marriage
One Man, One Woman, For Life: Lead Messages on Marriage Redefinition (for clergy, leaders, and lay faithful)

CALL TO PRAYER
FOR LIFE, MARRIAGE AND RELIGIOUS LIBERTY

The Catholic Bishops of the United States have called for a nationwide effort to advance a movement for Life, Marriage, and Religious Liberty through prayer, penance, and sacrifice. Catholics across the nation are being encouraged to pray for rebuilding a culture favorable to life and marriage and for increased protections of religious liberty.

Monthly Eucharistic Holy Hours in cathedrals and parishes

Daily Rosary by families and individuals

Special Prayers of the Faithful at all Masses

Fasting and abstinence from meat on Fridays

Call to Prayer Resources: USCCB

USCCB Resources on the Defense of Marriage

Catholic Conference Page on Marriage & Family Life


Campaign Runs through
May 2015

Since his election, Pope Francis has challenged Catholics and all people to go beyond the boundaries of their own lives and encounter the poor and marginalized

.

Click here to learn more



Prayer for Food for All

O God, you entrusted to us the fruits of all creation so that we might care for the earth and be nourished with its bounty.

You sent us your Son to share our very flesh and blood and to teach us your Law of Love. Through His death and resurrection, we have been formed into one human family.

Jesus showed great concern for those who had no food – even transforming five loaves and two fish into a banquet that served five thousand and many more.

We come before you, O God, conscious of our faults and failures, but full of hope, to share food with all members in this global family.

Through your wisdom, inspire leaders of government and of business, as well as all the world's citizens, to find just, and charitable solutions to end hunger by assuring that all people enjoy the right to food.

Thus we pray, O God, that when we present ourselves for Divine Judgment, we can proclaim ourselves as "One Human Family" with "Food for All". AMEN.



Catholic Bishops statement on Religious Liberty: Our First, Most Cherished Liberty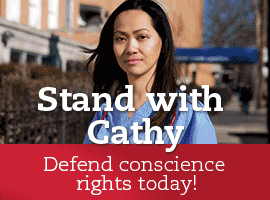 Prayer For Protection Of Conscience Rights In Health Care
Father, in Jesus our Lord, we praise and thank you for your most precious gift of human life and for forming us in your divine image. Keep us, the dwelling place of your most Holy Spirit, ever healthy in body and soul.
Jesus, Divine Healer, pour your grace upon all those afflicted with illness or disease. Protect from all harm those who are vulnerable due to sickness, suffering, frailty, poverty or age, whether elderly or unborn.
Holy Spirit, touch the hearts of all who serve human life in medicine and science, so they will protect the dignity of each person, from conception to natural death, and remain faithful advocates of all entrusted to their care.
Grant those who are called to serve as health care providers renewed conviction in their ministry, and increased wisdom to treat the whole person, and not merely the illness.
Protect the right of health care providers to serve their patients without being forced to violate their moral and religious convictions. Guard them against discrimination, that they might be free to follow you faithfully while fulfilling their professional duties.
Grant our lawmakers the wisdom and courage to uphold conscience rights for those called to the ministry of healing, and help them resist the pressure to become collaborators in the culture of death.
Give us strength to be bold and joyful witnesses to the truth that every human life is sacred.
In your goodness, guard our freedom to live out our faith and to follow you in all that we do.
Father, we ask this in Jesus' name, through the Holy Spirit. Amen.


U. S. Bishops Resources regarding Health Care Reform
Catholic Conference of Ohio Page on HHS Mandate


ACTION ALERTS
OTHER RESOURCES


Study the Catechism in the new, easy-to-navigate E-pub format


Compendium of the Social Doctrine of the Church

Our general mailbox is general@ohiocathconf.org. To reach a staff person, all addresses are first-initial-last-name@ohiocathconf.org. See the Contact Us page for a full staff directory


©Catholic Conference of Ohio