WELCOME
...to the Catholic Conference of Ohio website!
The Catholic Conference of Ohio is the official representative of the Catholic Church in public matters affecting the Church and the general welfare of the citizens of Ohio.
Wednesday, September 2, 2015
NEWS

Pre-order the official
commemorative edition:
Love is Our Mission:
Pope Francis in America

Pope Francis Visit to the United States
September 22-27, 2015

Tuesday, September 22: 4 PM arrival in Washington DC

Wednesday, September 23: 9:15 AM meeting with the President
4:15 PM Mass of Canonization of Junipero Serra, Basilica of the National Shrine of the Immaculate Conception

Thursday, September 24: 9:20 AM address to Congress

Friday, September 25: 8:30 AM address to United Nations, NYC
6 PM Mass at Madison Square Garden

Saturday, September 26: World Meeting of Families,Philadelphia
10:30 AM Mass at Cathedral Basilica of Sts. Peter and Paul

Sunday, September 27: 4:00 PM Mass for the conclusion of the World Meeting of Families, Benjamin Franklin Parkway
8 PM Departure for Rome
Catholic Conference of Ohio
ACTION ALERT

USCCB Urges the Withholding of Funds from Planned Parenthood

Recent revelations about Planned Parenthood's willingness to traffic in fetal tissue from abortions demonstrates callousness toward women and their unborn children. Public funds should be reallocated to providers that do not perform abortions. [MORE]

Support HB 294. This legislation was recently introduced. It will require the Ohio Department of Health to ensure that state and certain federal funds are not used to perform or promote elective abortions, or to contract with any entity that performs or promotes elective abortions.

Support SB 203. This legislation expands the prohibitions regarding the transfer of the product of human conception which is aborted and expands penalties for abortion trafficking.
USCCB Urges Support for the Negotiated Nuclear Accord with Iran [MORE]

Calls upon Congress to endorse the result of these intense negotiations because the alternative leads toward armed conflict, an outcome of profound concern to the Church.
August 5, 2015:

Cincinnati Archbishop Schnurr Urges Ohio Leaders and Citizens to Put Pope Francis' Encyclical on the Environment into Practice

[

More

]

On Care for Our Common Home (Laudato Si') is the new appeal from Pope Francis addressed to "every person living on this planet" for an inclusive dialogue about how we are shaping the future of our planet.
OCEA Convention 2015

Mass for all participants with the Bishops of their dioceses will be celebrated on Nov. 12 at 11:00 a.m.

The Convention's featured speaker is

Todd Whitaker

, author and national presenter on teacher and principal effectiveness.

Please go to: www.oceaconvention.org for more information
June 26, 2015
Supreme Court Decision On Marriage "A Tragic Error" Says President Of Catholic Bishops' Conference
WASHINGTON—The U.S. Supreme Court decision, June 26, interpreting the U.S. Constitution to require all states to license and recognize same-sex "marriage" "is a tragic error that harms the common good and most vulnerable among us," said Archbishop Joseph E. Kurtz of Louisville, Kentucky, president of the U.S. Conference of Catholic Bishops (USCCB).
---
Ohio Bishops Issue Statement Regarding the Same Sex Marriage Ruling

Today the United States Supreme Court released its ruling that states are required to license a marriage between two people of the same sex. This is not the ruling hoped for by the Catholic Church, which believes that marriage is by definition between one man and one woman. For centuries, this definition has been universally accepted in virtually all cultures – secular as well as religious.
Every nation has laws limiting who can be married and under what circumstances. This is because lawmakers always have understood that marriage does not exist just for the mutual satisfaction of the two people involved, but for the betterment of society. Traditional marriage is the cradle of the family, the basic building block of society. As Pope Francis has reminded us, every child has a right to be raised by two parents, a father and a mother. Both parents are important, and they are not interchangeable. The sad reality that so many children are deprived of this right because of the crisis in traditional marriage does not make it any less important. It is deeply disappointing and worrisome that our courts do not understand this.
The Catholic Church remains steadfast in its commitment to promote and defend marriage: defined as the union of one man and one woman. With renewed hope, sensitivity, and compassion, the Church will continue to attend to the challenges and hardships that confront individuals and their families, and to treat all persons with the dignity and respect due to them as children of God.

Catholic Conference of Ohio Partners with Ohioans to Stop Executions & The Catholic Mobilizing Network To End the Use of the Death Penalty

Education & Advocacy Program Established regarding the Death Penalty in Ohio
Catholic Conference of Ohio's Informational Flyer

Listing of Ohio Bishops

Listing of Conference Staff

Facts About the Catholic Church in Ohio

Conference Priorities
Legislative Issue Overviews
The 131st Ohio General Assembly General Assembly Website



---

Legislators by Catholic Schools

Legislators by Parish



"Never war! Never war!

I think most of all about children, whose hopes for a dignified life, a future

are dashed,

dead children, wounded children,

mutilated children, orphans,

children who have the

leftovers of war for toys,

children who don't know how to smile.

Stop it, please! I beg you with all my heart! It's time to stop!"...

Let's remember that

everything is lost with war

and nothing is lost with peace."


PRAYER FOR PEACE


Lord Jesus Christ, who are called

the Prince of Peace,

who are yourself

our peace and reconciliation,

who so often said, "Peace to you," grant us peace. Make all men and women

witnesses of truth, justice, and brotherly love.

Banish from their hearts whatever

might endanger peace.

Enlighten our rulers that they may

guarantee and defend the great gift of peace.

May all peoples of the earth become

as brothers and sisters.

May longed-for peace

blossom forth and reign always over us all.

Pope Saint John XXIII


RESOURCES
Care for Creation


Catholic Conference of Ohio

web page

on environmental justice entitled

Care for Creation

. It provides resources for families, parishes, schools and other institutions.

Care for Creation Calendar
available for download
Calendar Identifies and honors patron saints of God's creation

Basic Calendar (PDF)
Calendar with Interactive Links (PDF)
Calendar with QR Code (PDF)


6/26/15: Budget Bill (HB 64) includes measures that will increase resources to women in crisis pregnancies and hold abortion facilities accountable.

6/24/15: Ohio Senate Passes Pain Capable Unborn Protection Act (SB 127)

6/23/15: Ohio House Committee hearings begin on Abortion-Inducing Drug Safety Act (HB 255)

6/16/15: Ohio House Committee votes out Down Syndrome Non-Discrimination Act (HB 135)

3/25/15: Ohio House Passes Heartbeat Bill (HB 69)

Promotion & Defense of Marriage
One Man, One Woman, For Life: Lead Messages on Marriage Redefinition (for clergy, leaders, and lay faithful)

CALL TO PRAYER
FOR LIFE, MARRIAGE AND RELIGIOUS LIBERTY

The Catholic Bishops of the United States have called for a nationwide effort to advance a movement for Life, Marriage, and Religious Liberty through prayer, penance, and sacrifice. Catholics across the nation are being encouraged to pray for rebuilding a culture favorable to life and marriage and for increased protections of religious liberty.

Monthly Eucharistic Holy Hours in cathedrals and parishes

Daily Rosary by families and individuals

Special Prayers of the Faithful at all Masses

Fasting and abstinence from meat on Fridays

Call to Prayer Resources: USCCB

USCCB Resources on the Defense of Marriage

Catholic Conference Page on Marriage & Family Life




Catholic Bishops statement on Religious Liberty: Our First, Most Cherished Liberty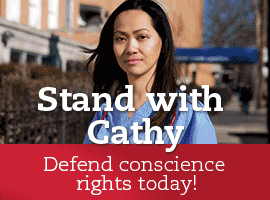 Prayer For Protection Of Conscience Rights In Health Care
Father, in Jesus our Lord, we praise and thank you for your most precious gift of human life and for forming us in your divine image. Keep us, the dwelling place of your most Holy Spirit, ever healthy in body and soul.
Jesus, Divine Healer, pour your grace upon all those afflicted with illness or disease. Protect from all harm those who are vulnerable due to sickness, suffering, frailty, poverty or age, whether elderly or unborn.
Holy Spirit, touch the hearts of all who serve human life in medicine and science, so they will protect the dignity of each person, from conception to natural death, and remain faithful advocates of all entrusted to their care.
Grant those who are called to serve as health care providers renewed conviction in their ministry, and increased wisdom to treat the whole person, and not merely the illness.
Protect the right of health care providers to serve their patients without being forced to violate their moral and religious convictions. Guard them against discrimination, that they might be free to follow you faithfully while fulfilling their professional duties.
Grant our lawmakers the wisdom and courage to uphold conscience rights for those called to the ministry of healing, and help them resist the pressure to become collaborators in the culture of death.
Give us strength to be bold and joyful witnesses to the truth that every human life is sacred.
In your goodness, guard our freedom to live out our faith and to follow you in all that we do.
Father, we ask this in Jesus' name, through the Holy Spirit. Amen.


U. S. Bishops Resources regarding Health Care Reform
Catholic Conference of Ohio Page on HHS Mandate


OTHER RESOURCES


Study the Catechism in the new, easy-to-navigate E-pub format


Compendium of the Social Doctrine of the Church

Our general mailbox is general@ohiocathconf.org. To reach a staff person, all addresses are first-initial-last-name@ohiocathconf.org. See the Contact Us page for a full staff directory


©Catholic Conference of Ohio