WELCOME
...to the Catholic Conference of Ohio website!
The Catholic Conference of Ohio is the official representative of the Catholic Church in public matters affecting the Church and the general welfare of the citizens of Ohio.
Friday, October 24, 2014
NEWS

Pope Francis calls for abolishing death penalty and inhuman prison conditions



"It is impossible to imagine that states today cannot make use of another means than capital punishment to defend peoples' lives from an unjust aggressor... All Christians and people of good will are thus called today to struggle not only for abolition of the death penalty, whether it be legal or illegal and in all its forms, but also to improve prison conditions, out of respect for the human dignity of persons deprived of their liberty." [

MORE

]
Ohio Catholic Rural Life Conference Issues Care for Creation Calendar

This colorful calendar identifies various patron saints of God's creation, as well as a few public days associated with aspects of stewardship of the environment. It is intended for use in schools, parishes and families.

Various versions can be downloaded and reprinted for personal and educational purposes.

Basic Calendar (PDF)
Calendar with Interactive Links (PDF)
Calendar with QR Code (PDF)

Pope beatifies Blessed Paul VI, the 'great helmsman' of Vatican II

USCCB blog featuring posts on Pope Paul

-- honoring his legacy by reflecting on his individual and lasting contributions to the life of the Church.


The Ohio Department of Health is activating a 24-hour-a-day call center to answer Ohioans' questions about Ebola and the recent events in Ohio in an effort to ensure Ohioans get accurate, timely information. The number for Ohioans to call is 1-866-800-1404.

What You Need To Know About Ebola


Ohio Abortions Hit New Historic Low
State Report Shows 9 Percent Drop from Previous Year


There were 23,216 abortions performed in the state of Ohio in 2013, the lowest annual number since the state began keeping records in 1976, according to a new

report from the Ohio Department of Health (ODH).
The Ukrainian Eparchy of St. Josaphat Welcomes The Most Reverend Bohdan Danylo


The Pontifical Divine Liturgy with the Rite of Ordination and Installation of the Most Reverend Bohdan J. Danylo as the Bishop of the Eparchy of St. Josaphat has been scheduled for Tuesday, November 4, 2014, at 2:00 pm at St. Josaphat Cathedral.

A bilingual Vespers Service with the Rite of Episcopal Nomination will take place the evening before, on Monday, November 3rd, at 6:00 pm.

[MORE]


PRAY FOR PEACE IN THE UKRAINE

Letter of His Beatitude Sviatoslav regarding the situation in Ukraine
USCCB letter to Congress
regarding violence in the Holy Land

"Together with Pope Francis, let us agree
"not to spare prayer or any effort to end every hostility and seek the desired peace for the good of all." Let our refrain be that of Pope Francis: "Dialogue, dialogue, dialogue."


---

"Never war! Never war! I think most of all about children, whose hopes for a dignified life, a future are dashed, dead children, wounded children, mutilated children, orphans, children who have the leftovers of war for toys, children who don't know how to smile. Stop it, please! I beg you with all my heart! It's time to stop!"...Let's remember that everything is lost with war and nothing is lost with peace."

PRAYER FOR PEACE Lord Jesus Christ, who are called the Prince of Peace, who are yourself our peace and reconciliation, who so often said, "Peace to you," grant us peace. Make all men and women witnesses of truth, justice, and brotherly love.

Banish from their hearts whatever might endanger peace.

Enlighten our rulers that they may guarantee and defend the great gift of peace.

May all peoples of the earth become as brothers and sisters.

May longed-for peace blossom forth and reign always over us all.

Pope Saint John XXIII


RESOURCES
Care for Creation


Catholic Conference of Ohio

web page

on environmental justice entitled

Care for Creation

. It provides resources for families, parishes, schools and other institutions.

Care for Creation Calendar
available for download
Calendar Identifies and honors patron saints of God's creation

Basic Calendar (PDF)
Calendar with Interactive Links (PDF)
Calendar with QR Code (PDF)




A new effort is underway across Ohio to prevent drug abuse among Ohio's children. Start Talking! is a statewide program to give parents, guardians, educators and community leaders the tools to start the conversation with Ohio's youth about the importance of living healthy, drug-free lives.






Immigration Reform

Immigration Principles

Congress must seize this moment to fix broken system
Principles diverge from USCCB position, but seen as starting point
Bipartisan cooperation needed to produce agreement

Moratorium on Ohio's executions extended until January 15, 2015

U.S. District Judge Gregory L. Frost has ordered a temporary moratorium on executions in Ohio while legal issues related to new lethal injection protocol are worked out.

The order stops the scheduled executions of Ronald Phillips of Summit County, William Montgomery of Lucas County, Raymond Tibbets of Hamilton County, Gregory Lott of Cuyahoga County, and Warren Henness of Franklin County. They will all have to be rescheduled by the Ohio Supreme Court.

[MORE]

---
Ohio Supreme Court Task Force issues recommendations on Ohio's death penalty [MORE]

Catholic Conference Page on Death Penalty


Governor Signs Open Adoption Records Legislation.
Birth Parents Allowed 15 Months to Redact Names
Sub. S.B. 23 will enable all individuals adopted between the years 1964 through 1996 to their access original birth certificates as well as their social and medical history records. As outlined in the law, these records will be available to adult adoptees after a 15 month grace period to allow birth parents who wish to remain anonymous to have their names redacted from these files. All adoptions from 1964-1996 were closed adoptions.

Information from Ohio Department of Heath regarding redaction request forms and release forms

Biological parents who wish to redact their name from any future adoption file release may sign and submit a redaction request form between March 20, 2014 and March 20, 2015. Redaction requests must be submitted using this official government form, which will be made available by March 20, 2014. Biological parents may submit the redaction request until March 20, 2015. Please note if a redaction request form is submitted by a biological parent they must also submit an updated social and medical history form in order for the redaction request to be accepted.

Also effective starting March 20, 2015, the adopted name may be released to a biological parent or sibling upon receipt of a signed application for release of adopted name form.

Catholic Conference of Ohio web page on adoption


Promotion & Defense of Marriage
One Man, One Woman, For Life: Lead Messages on Marriage Redefinition (for clergy, leaders, and lay faithful)

CALL TO PRAYER
FOR LIFE, MARRIAGE AND RELIGIOUS LIBERTY

The Catholic Bishops of the United States have called for a nationwide effort to advance a movement for Life, Marriage, and Religious Liberty through prayer, penance, and sacrifice. Catholics across the nation are being encouraged to pray for rebuilding a culture favorable to life and marriage and for increased protections of religious liberty.

Monthly Eucharistic Holy Hours in cathedrals and parishes

Daily Rosary by families and individuals

Special Prayers of the Faithful at all Masses

Fasting and abstinence from meat on Fridays

Call to Prayer Resources: USCCB

USCCB Resources on the Defense of Marriage

Catholic Conference Page on Marriage & Family Life


Campaign Runs through
May 2015

Since his election, Pope Francis has challenged Catholics and all people to go beyond the boundaries of their own lives and encounter the poor and marginalized

.

Click here to learn more



Prayer for Food for All

O God, you entrusted to us the fruits of all creation so that we might care for the earth and be nourished with its bounty.

You sent us your Son to share our very flesh and blood and to teach us your Law of Love. Through His death and resurrection, we have been formed into one human family.

Jesus showed great concern for those who had no food – even transforming five loaves and two fish into a banquet that served five thousand and many more.

We come before you, O God, conscious of our faults and failures, but full of hope, to share food with all members in this global family.

Through your wisdom, inspire leaders of government and of business, as well as all the world's citizens, to find just, and charitable solutions to end hunger by assuring that all people enjoy the right to food.

Thus we pray, O God, that when we present ourselves for Divine Judgment, we can proclaim ourselves as "One Human Family" with "Food for All". AMEN.



Catholic Bishops statement on Religious Liberty: Our First, Most Cherished Liberty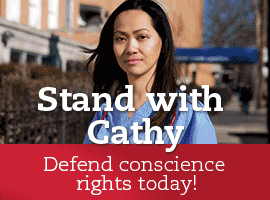 Prayer For Protection Of Conscience Rights In Health Care
Father, in Jesus our Lord, we praise and thank you for your most precious gift of human life and for forming us in your divine image. Keep us, the dwelling place of your most Holy Spirit, ever healthy in body and soul.
Jesus, Divine Healer, pour your grace upon all those afflicted with illness or disease. Protect from all harm those who are vulnerable due to sickness, suffering, frailty, poverty or age, whether elderly or unborn.
Holy Spirit, touch the hearts of all who serve human life in medicine and science, so they will protect the dignity of each person, from conception to natural death, and remain faithful advocates of all entrusted to their care.
Grant those who are called to serve as health care providers renewed conviction in their ministry, and increased wisdom to treat the whole person, and not merely the illness.
Protect the right of health care providers to serve their patients without being forced to violate their moral and religious convictions. Guard them against discrimination, that they might be free to follow you faithfully while fulfilling their professional duties.
Grant our lawmakers the wisdom and courage to uphold conscience rights for those called to the ministry of healing, and help them resist the pressure to become collaborators in the culture of death.
Give us strength to be bold and joyful witnesses to the truth that every human life is sacred.
In your goodness, guard our freedom to live out our faith and to follow you in all that we do.
Father, we ask this in Jesus' name, through the Holy Spirit. Amen.


U. S. Bishops Resources regarding Health Care Reform
Catholic Conference of Ohio Page on HHS Mandate


ACTION ALERTS
U.S. Congress

Now is the Time to Pass
Just and Compassionate Immigration Reform


---
OTHER RESOURCES


Study the Catechism in the new, easy-to-navigate E-pub format


Compendium of the Social Doctrine of the Church

Our general mailbox is general@ohiocathconf.org. To reach a staff person, all addresses are first-initial-last-name@ohiocathconf.org. See the Contact Us page for a full staff directory


©Catholic Conference of Ohio