WELCOME
...to the Catholic Conference of Ohio website!
The Catholic Conference of Ohio is the official representative of the Catholic Church in public matters affecting the Church and the general welfare of the citizens of Ohio.
Wednesday, April 23, 2014
NEWS



ODE Accepting Applications for Scholarship Programs for Children to Attend Catholic Schools

Applications are now being accepted through May 9, 2014 for EdChoice, Peterson & Cleveland Scholarships.

The EdChoice Scholarship Program enables students who are assigned to attend underperforming public schools the opportunity to attend a participating private school if awarded one of up to 60,000 state-funded scholarships.

Additional EdChoice scholarships are available to incoming kindergarten and first grade students whose family income is at or below 200 percent of the Federal Poverty Guidelines. These scholarships are available to anyone who meets the income requirements regardless of where they live in Ohio

The Jon Peterson Special Needs Scholarship Program provides scholarships to students who are eligible to attend kindergarten through 12th grade and have an Individualized Education Plan (IEP) from their district of residence. The amount of each scholarship is be based on the disability identified on the student's IEP and will not exceed $20,000.


The Cleveland Scholarship Program provides educational choices for children in kindergarten through twelfth grade. The program gives students the opportunity to attend private schools in Cleveland. The State will provide reimbursement for tuition to help pay the cost of attending these schools. Even if your child already attends one of these schools, you may be eligible to apply for the program.


---

Applications accepted throughout the year for the Autism Scholarship

The Autism Scholarship Program (ASP) gives the parents of qualified children with autism the choice to send the child to a special education program other than the one operated by the school district of residence.


Catholic Conference Page on Religious Liberty
Immigration Reform

Immigration Principles

Congress must seize this moment to fix broken system
Principles diverge from USCCB position, but seen as starting point
Bipartisan cooperation needed to produce agreement

February, 2014: Senate Civil Justice Committee holds hearings on SB 250

SB 250 is similar to HB 307, with major changes in the putative father timelines for consent and a call for a refundable tax credit.

Catholic Conference of Ohio's Interested Party Testimony on SB 250 & HB 307
---
January 29, 2014: Ohio House Committee Approves Sub. HB 307, Infant Adoption Changes

Streamlines the adoption processes and procedures and offers new financial incentives

Payments from the adoptive family to the birth mother for living expenses and necessities will be directly paid, thus eliminating the potential for fraud

The tax credit for the adoptive family will increase from $1,500 to $10,000 with the ability to roll over an additional four years

Changes time and notice for all parties involved to consent or object to an adoption plan

An adoption decree will be finalized after 60 days, rather than 12 months

---
Governor Signs Open Adoption Records Legislation.
Birth Parents Allowed 15 Months to Redact Names
Sub. S.B. 23 will enable all individuals adopted between the years 1964 through 1996 to their access original birth certificates as well as their social and medical history records. As outlined in the law, these records will be available to adult adoptees after a 15 month grace period to allow birth parents who wish to remain anonymous to have their names redacted from these files. All adoptions from 1964-1996 were closed adoptions.

Information from Ohio Department of Heath regarding redaction request forms and release forms

Biological parents who wish to redact their name from any future adoption file release may sign and submit a redaction request form between March 20, 2014 and March 20, 2015. Redaction requests must be submitted using this official government form, which will be made available by March 20, 2014. Biological parents may submit the redaction request until March 20, 2015. Please note if a redaction request form is submitted by a biological parent they must also submit an updated social and medical history form in order for the redaction request to be accepted.

Also effective starting March 20, 2015, the adopted name may be released to a biological parent or sibling upon receipt of a signed application for release of adopted name form.

Catholic Conference of Ohio web page on adoption


Catholic Conference of Ohio pursuing an increase in the EdChoice Scholarship for high school students and a way for non-poverty parents to share in the cost of educating their children

The EdChoice Scholarship Program, initiated in 2006, provides educational opportunities for more than 17,000 students to attend the schools of their parents' choice. EdChoice scholarships have remained at $4,250 for K-8 students and $5,000 for 9-12 students over the past five years even though the cost to educate students continues to increase. Some schools are struggling under this widening gap between the actual cost of education and the amount of the EdChoice scholarship.
The Conference asks for the following:

Raise the scholarship for high school students to $5700 which is consistent with the scholarship amount for high school students in the Cleveland Scholarship Program.

Eliminate the requirement in Ed Choice that schools must allow non-poverty parents to substitute volunteer work for tuition. This would permit schools to charge non-poverty parents the difference between the scholarship amount and the school's actual tuition.

---
Ohio Catholic School Leaders Participate in Private Schools, Public Vouchers Forum:
Fordam Institute, February 12, 2014
---
Catholic Conference of Ohio's Statement Concerning HB 231

The Catholic Conference of Ohio is concerned with HB 231's proposed change that would require our houses of worship to allow concealed weapons unless we post or permit otherwise.

Our Conference believes that religious communities, under religious liberty, should decide what is appropriate to bring into our spaces of worship. We generally hold that our houses of worship should be weapon free. Practically speaking, we prefer that our parishioners, especially our parents and children, can confidently assume an atmosphere of peace in our parishes where people are not presumed to be carrying any weapons, legitimately or otherwise. Our concern has more to do with the principle than the specific penalty. [More]

Promotion & Defense of Marriage
Nationwide bulletin insert: "Marriage and the Supreme Court" (May/June 2013)
One Man, One Woman, For Life: Lead Messages on Marriage Redefinition (for clergy, leaders, and lay faithful)

CALL TO PRAYER
FOR LIFE, MARRIAGE AND RELIGIOUS LIBERTY

The Catholic Bishops of the United States have called for a nationwide effort to advance a movement for Life, Marriage, and Religious Liberty through prayer, penance, and sacrifice. Catholics across the nation are being encouraged to pray for rebuilding a culture favorable to life and marriage and for increased protections of religious liberty.

Monthly Eucharistic Holy Hours in cathedrals and parishes

Daily Rosary by families and individuals

Special Prayers of the Faithful at all Masses

Fasting and abstinence from meat on Fridays

A Fortnight for Freedom in June/July 2013
Call to Prayer Resources: USCCB

USCCB Resources on the Defense of Marriage

Catholic Conference Page on Marriage & Family Life


Campaign Runs through
May 2015



On Tuesday, December 10, a worldwide movement was launched to respond to the
needs of the poor and vulnerable in our
midst by praying and acting to end hunger.

Since his election, Pope Francis has challenged Catholics and all people to go beyond the boundaries of their own lives
and encounter the poor and marginalized.
As legislators in Washington deliberate how to allocate budget resources to the many people who are hungry, both in our country and around the world, this campaign gives
all of us an opportunity to turn awareness
into action.

Campaign Prayer

O God, you entrusted to us the fruits of all creation so that we might care for the earth and be nourished with its bounty.

You sent us your Son to share our very flesh and blood and to teach us your Law of Love. Through His death and resurrection, we have been formed into one human family.

Jesus showed great concern for those who had no food – even transforming five loaves and two fish into a banquet that served five thousand and many more.

We come before you, O God, conscious of our faults and failures, but full of hope, to share food with all members in this global family.

Through your wisdom, inspire leaders of government and of business, as well as all the world's citizens, to find just, and charitable solutions to end hunger by assuring that all people enjoy the right to food.

Thus we pray, O God, that when we present ourselves for Divine Judgment, we can proclaim ourselves as "One Human Family" with "Food for All". AMEN.

Click here to learn more




Catholic Bishops statement on Religious Liberty: Our First, Most Cherished Liberty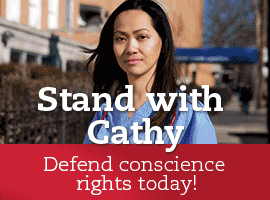 Prayer For Protection Of Conscience Rights In Health Care
Father, in Jesus our Lord, we praise and thank you for your most precious gift of human life and for forming us in your divine image. Keep us, the dwelling place of your most Holy Spirit, ever healthy in body and soul.
Jesus, Divine Healer, pour your grace upon all those afflicted with illness or disease. Protect from all harm those who are vulnerable due to sickness, suffering, frailty, poverty or age, whether elderly or unborn.
Holy Spirit, touch the hearts of all who serve human life in medicine and science, so they will protect the dignity of each person, from conception to natural death, and remain faithful advocates of all entrusted to their care.
Grant those who are called to serve as health care providers renewed conviction in their ministry, and increased wisdom to treat the whole person, and not merely the illness.
Protect the right of health care providers to serve their patients without being forced to violate their moral and religious convictions. Guard them against discrimination, that they might be free to follow you faithfully while fulfilling their professional duties.
Grant our lawmakers the wisdom and courage to uphold conscience rights for those called to the ministry of healing, and help them resist the pressure to become collaborators in the culture of death.
Give us strength to be bold and joyful witnesses to the truth that every human life is sacred.
In your goodness, guard our freedom to live out our faith and to follow you in all that we do.
Father, we ask this in Jesus' name, through the Holy Spirit. Amen.


U. S. Bishops Resources regarding Health Care Reform
Catholic Conference of Ohio Page on HHS Mandate




Care for Creation

Catholic Conference of Ohio web page on environmental justice entitled Care for Creation. It provides resources for families, parishes, schools and other institutions.


Ohio Website regarding Medicaid Eligibility

:

www.benefits.gov

Information for applying for Medicaid benefits, including Ohio's new expansion program for persons with income between 90% and 138% of the federal poverty level.
ACTION ALERTS
U.S. Congress
Now is the Time to Pass
Just and Compassionate Immigration Reform


---
2014

Arthur Tyler, Cuyahoga County, is scheduled for execution on May 28, 2014 for the death of Sander Leach.



Ronald R. Phillips, Summit County, has been rescheduled for execution on July 2, 2014 for the death of Sheila Marie Evans. He was originally scheduled for execution on November 14, 2013, but was granted a stay to investigate the possibility of providing organ donations.
William Montgomery, Lucas County, is scheduled for execution on August 6, 2014 for the deaths of Debra Ogle and Cynthia Tincher.

Raymond Tibbetts, Hamilton County, is scheduled for execution on October 14, 2014 for the deaths of Judith Sue Crawford and Fred Hicks.


Gregory Lott, Cuyahoga County, is rescheduled for execution on November 19, 2014 for the death of John McGrath. Mr. Lott had three previous execution dates delayed; one on March 19, 2014, one on August 27, 2002, the other on April 27, 2004.

2015
Warren K. Henness , Franklin County, is scheduled for execution on January 7, 2015 for the death of Richard Myers

Robert Van Hook, Hamilton County, is scheduled for execution on March 12, 2015 for the death of David Self


Jeffrey Wogenstahl, Hamilton County, is scheduled for execution on May 14, 2015 for the death of Amber Garrett.


Alva Campbell Jr., Franklin County, is scheduled for execution on July 15, 2015 for the death of Charles Dials


Angelo Fears, Hamilton County, is scheduled for execution on September 17, 2015 for the death of Antwan Gilliam


Cleveland Jackson, Allen County, is scheduled for execution on November 17, 2015 for the death of Leneshia Williams

2016


Kareem Jackson, Franklin County, is scheduled for execution on January 21, 2016 for the deaths of Antonio Hunter and Terrance Walker.


CATHOLIC TEACHING OPPOSING THE USE OF THE DEATH PENALTY
CLICK HERE


OTHER RESOURCES


Study the Catechism in the new, easy-to-navigate E-pub format


Compendium of the Social Doctrine of the Church

Our general mailbox is general@ohiocathconf.org. To reach a staff person, all addresses are first-initial-last-name@ohiocathconf.org. See the Contact Us page for a full staff directory


©Catholic Conference of Ohio